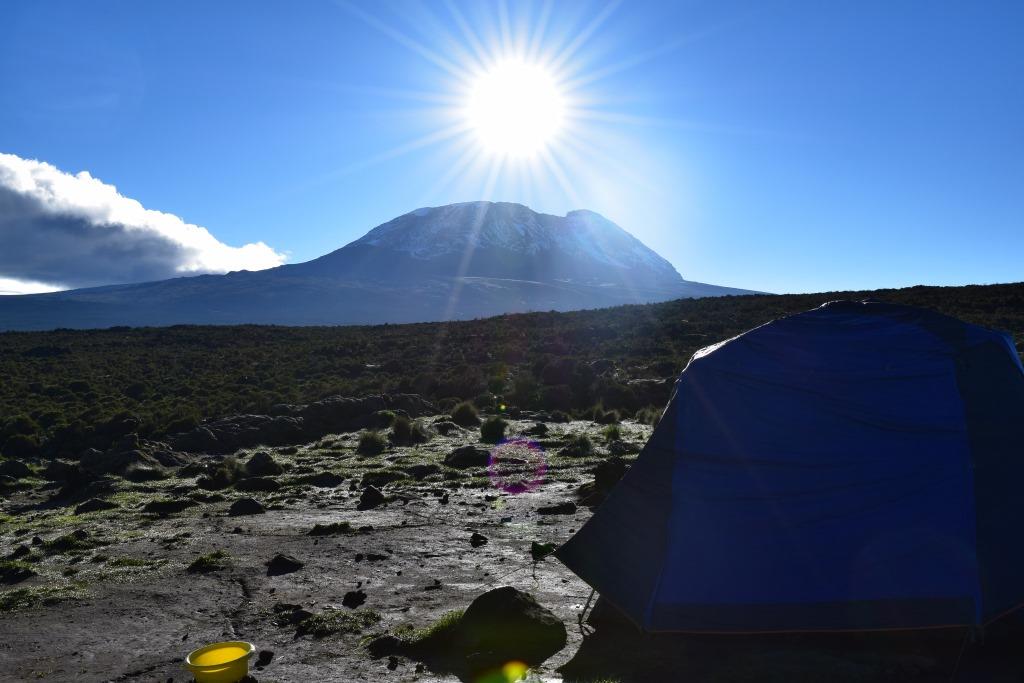 Mt Kilimanjaro Expedition
Alternate routes on the mountain.
Alternate Routes
Other routes that are possible.
A Recommended Alternative
Lemosho North Route
The exciting, new Northern Circuit route follows the Lemosho trail at the start, approaching Kilimanjaro from the west. It veers north at the start of the Southern Circuit section, taking a course around the mountain along the rarely visited northern slopes. The Northern Circuit spends more days around the 13,000 ft (3963 m) level, increasing acclimatization. This route also has some of the most incredible and varied scenery on the mountain. You can find a detailed itinerary on the Itineraries page.
Other Considerations
Which is the best route for me?
Seven established routes to climb Mount Kilimanjaro give many options for you. The climbing routes- Marangu, Machame, Lemosho, Shira, Rongai, Northern Circuit and Umbwe-each have advantages and disadvantages. Although we call it "climbing" Mt. Kilimanjaro, there is no mountain climbing involved. These routes are simple, straight-forward hiking routes, only taking on difficulty due to a combination of steepness and altitude.

While the southern Mweka route is only used for descent, the Marangu, Machame, and Umbwe routes all approach from the south. The Lemosho, Shira and Northern Circuit routes approach from the west, and the Rongai route approaches from the north. The following map shows the routes in a basic layout.
Route Selection
Route selection needs to be based on your goals and a reasonable assessment of your chances of summitting. Your goals might include experiencing specific scenery, a specific hiking difficulty, and how many others are travelling along the same path as you. A reasonable assessment of your chances of summitting comes from your knowledge of your ability to acclimatize to altitude and the acclimatization aspects of a specific route. You need to ask yourself some questions to begin to assess your own acclimatization ability.
Do you know if you have problems at altitude?
Have you felt ill from being at higher altitude before [3050 m (10,000 ft) or higher]?
Have you been above 3050 m and gone through a successful acclimatization before?
If you answered question 3 with "yes" your chances of summitting are probably quite good. If you answered "yes" to questions 1 or 2, then you may have problems acclimatizing and want to increase your chances as much as possible, so you will want a route that maximizes acclimatization. Routes that "go high, camp lower" are better for acclimatizing, and routes that take longer at higher altitudes to get to your summit base camp are also better. The Lemosho and Machame routes are better for this. The Rongai route is better for those people who know they have little to no problem at altitude.

One option is to bag two mountains in one trip. Mt Meru, near Mt Kilimanjaro peaks at about 4900 m, similar to the summit base camps on Kilimanjaro. Hiking up Meru is good acclimatization for climbing Mt Kilimanjaro right after.

STATS ON ROUTE TRAFFIC
Machame (45%), Marangu (40%), Lemosho (8%), Rongai (5%), Shira (1%), Northern Circuit (0%), Umbwe (0%)

We prefer the best Kilimanjaro routes – those with the best success rates, excellent scenery, and low traffic.

BEST ACCLIMATIZATION ROUTES (MORE DAYS)
Lemosho Southern Circuit, Lemosho Northern Circuit, Machame Route

MOST SCENIC ROUTES
Lemosho Northern Circuit, Lemosho Southern Circuit, Machame Route, Rongai Route

LEAST TO MEDIUM TRAFFIC ROUTES
Lemosho Northern Circuit, Rongai Route, Lemosho Southern Circuit

MORE TO LESS DIFFICULT HIKING
Lemosho Northern Circuit, Lemosho Southern Circuit, Machame Route, Rongai Route

You can find more detail on the routes we normally take by following the navigation links under Mountain Expeditions at the top of the page. You can find detailed itineraries for popular expeditions on the Itineraries page.
Get In Touch
For more information, please contact us. We will be happy to answer any questions you have for us. You can send a direct email to us from the email form. We should answer your questions within 24 hours.
---
4865 Bench Rd
Cowichan Bay, BC
Canada
Ethiopia Street, Kaloleni
Arusha
Tanzania
---
E: info @ kilimanjarobliss.com
P: +1 250 715 0034

What Our Guests Say
Very nice trip with Ari, on recommandation from a friend we went with him for a safari after our climb to Uhuru peak, and it was a pleasure, very nice, very professional, and also very friendly. A safari very close to the animals, where he took time to explain all about everything, and provided all the confort, picking us at the hotel, and even bringing us to the airport in the middle of the night.

My two friends and I had an incredible time on the safari with our guide ari and our driver ("lion")!! We would highly recommend this safari. We did a three day safari and three parks and an incredible hotel and food was all included! Our guides were very knowledgeable and helpful and allowed us to have so much fun and adventure along the way. We were able see all the animals we wanted to (rhino!) and it was a wonderful experience out in the parks. Such an incredible and magical place, full of life and wonder. The resort hotel we stayed at was also wonderful and relaxing. Thank you Ari and "Lion"!

I was impressed by Aristarick, one of our gides. He was very helpfull, motivating and knows a lot. Thanks to him we made it to the top.

We enjoyed amazing safari's in Arusha, Tarangire, Ngorongoro and the Serengeti National Park, thanks to Kilimanjaro Bliss & Ari. Guide & driver Ari was very flexible and accommodating for our family (5people). Every day again, we were amazed by the beauty of the country, the hospitality of the people and the guidance of our guide & driver.

Ari of Kilimanjaro Bliss was an amazing host. We had signed up to do our climb to the top of Kilimanjaro with Kilimanjaro Bliss and got so much more than we expected...Ari and his crew took great care of us on the seven days that we took to get to the top and back down again. The food was incredibly delicious and the crew were awesome. It was an amazing adventure and we made it back a day early, so we decided to do a safari to Tarangire National Park. We ended our day with a visit to a Masai village. A truly incredible experience with exceptional service by Ari.

The most incredible adventure, with the most amazing people! Two women, aged 55 and 59, apprehensive of the gruelling journey, but hoping for bragging rights of reaching the top; we anticipated sacrificing all comfort to get there. Instead, we were blown away with the great lengths the team went through to, not only make us comfortable, but make us feel like royalty. Meals were better than I have had in 5-star restaurants. Although summit day was tough, the journey getting there will be what I remember best. I miss the team already!